Store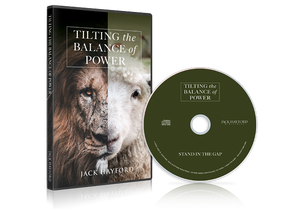 Tilting the Balance of Power - 4-Message album
CD Album
Tilting the Balance of Power
In this encouraging four-part series Pastor Jack teaches the significance of prayer in changing the balance of spiritual power. That when believers posture themselves in passionate, purposeful prayer believing it results in God responding, life is birthed and things in the spiritual realm are tipped into the will of God.
As a "thank you" for your gift of $35 or more in support of the Spirit-led outreaches of Jack Hayford Ministries, we'd like to send you this 4-message album, Tilting the Balance of Power with the messages:
Stand in the Gap
Birth Life
Never Fail
Holy Shake Up
Also available as a $25 Digital Download!

You have
0 items
in your cart
---
Cart
---
You Might Also Like