Store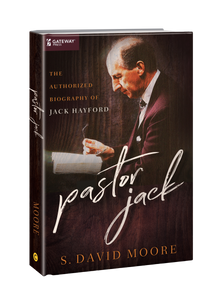 Pastor Jack: The Authorized Biography of Jack Hayford
Hardcover
This engaging biography of the pastor of pastors, whom Christianity Today called "The Pentecostal Gold Standard," invites readers into the fascinating life and faith of Pastor Jack Hayford, a true man of God.
Jack Hayford is rightly known as a "pastor of pastors." The facts bear this out: he is the author of over 50 books, the writer of 600 hymns and choruses (including the internationally popular "Majesty"), and a pentecostal leader committed to building bridges while maintaining the integrity of the gospel.
For Pastor Jack, David Moore was granted unrestricted access to Hayford's journals and personal correspondence and completed over 60 hours of personal interviews to offer the first authorized biography of this extraordinary man. From the miraculous healings he experienced as a child to the moment he sensed God calling him to the pastorate for more than 60 years of fruitful ministry, Hayford has witnessed and proclaimed God's mighty works with boldness and grace. This exploration of his life and legacy will inspire Hayford's lifelong followers as well as those new to his words and faith.
About the Author
Dr. S. David Moore is the author of The Shepherding Movement: Controversy and Charismatic Ecclesiology, the co-editor of The Pastor and the Kingdom: Essays Honoring Jack W. Hayford, and the co-author with Jack Hayford of The Charismatic Century: The Enduring Impact of the Azusa Street Revival. Dr. Moore lives in Manteca, California, with his wife of 50 years, Patty.

You have
0 items
in your cart
---
Cart
---
You Might Also Like