Store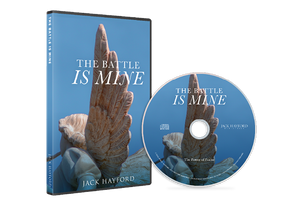 The Battle is Mine - 4-Message album
CD Album
The Battle is Mine
This inspiring four-part series focuses on the understanding and the establishing of the Biblical principle of spiritual warfare.  Pastor Jack eloquently lays our God's perspective on fighting an enemy that is spiritual.  

As a "thank you" for your gift of $35 or more in support of the Spirit-led outreaches of Jack Hayford Ministries, we'd like to send you this 4-message album, The Battle is Mine with the messages:
The Power of Praise

The Lord's Way to War

Learning to Wage Spiritual Warfare

How to Praise in a Crisis
Also available as a $25 Digital Download!

You have
0 items
in your cart
---
Cart
---
You Might Also Like