Store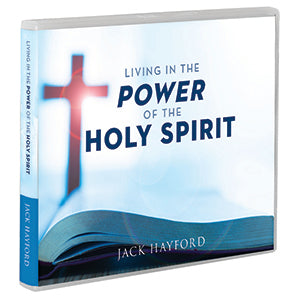 Living in the Power of the Holy Spirit: Thank you for your gift of $40 or more in support of Jack Hayford Ministries!
CD Album
In this 5-message set, Pastor Jack Hayfords reveals that the rise and fall of the Church depends on it moving in the fullness of the Holy Spirit. This is why the flow of the Holy Spirit in each believer's life is so critical.
When the Spirit that filled Jesus' ministry fills us, two important things happen: We are born by the Spirit and filled with the Spirit. This instance of being filled with the Spirit is not meant to be a one-time experience, however. Once Jesus saves us, we are told to go forward to maturity; to increase in development and growth. In other words, we are to walk in His authority and be willing to be refilled, refreshed and renewed by His Spirit continually.
MESSAGES INCLUDED:
Simple People Simply Trusting, The Day the Other Sermon Started, The Fullness of Pentecost, Saint-Be Filled! and Four Facts of Pentecost

You have
0 items
in your cart
---
Cart
---
You Might Also Like