Store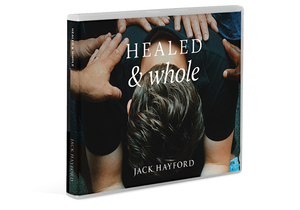 Healed & Whole - 4-Message Digital Download
MP3 Album
Will you be healed  & made whole?
God desires to heal. It is His nature to make people whole. In this series Pastor Jack shares how Jesus' healing ministry is evidenced in prophecy, and His person, and through His promise of heal. There are people around us suffering from sickness and disease, paralyzed by the enemy, depressed, and even crippled emotionally. You are invited to believe in the power of Jesus to heal, then with loving compassion be an agent of divine healing. This series will stir you to let the love of God pass through you to another.
As a "thank you" for your support of $35 or more to support Jack Hayford Ministries, we would like to send you Pastor Jack's special digital download audio series, Healed & Whole.
Audio Messages include: Ministering Healing in the Miracle Promise of God, Healing Virtue Flowing in the Body of Christ, Restoring Wholeness to the Personality, Becoming Agents of His Healing.

You have
0 items
in your cart
---
Cart
---
You Might Also Like