Store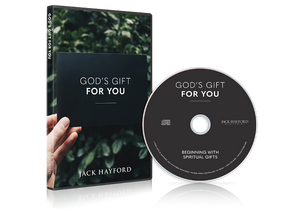 God's Gift for You - 4-Message album
CD Album
God's Gift for You
This inspirational four-part series from Pastor Jack will awaken in you the realization of the abundant gifts God has given you to minister to others. The Father, the Son and the Holy Spirit have all given you special spiritual empowerment to those around you. This series will help you identify the gifts you were given and the purpose for which they were given.
As a "thank you" for your gift of $35 or more in support of the Spirit-led outreaches of Jack Hayford Ministries, we'd like to send you this 4-message album, God's Gift for You with the messages:
Beginning with Spiritual Gifts

Gifts of the Holy

Spirit

In God's Plan

Distributing Gifts
Also available as a $25 Digital Download!

You have
0 items
in your cart
---
Cart
---
You Might Also Like