Store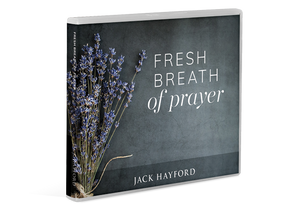 Fresh Breath of Prayer - 4-Message Digital Download
MP3 Album
Do you need a Fresh Breath of Prayer?
The story of the world is a collection of countless moments of shattering experiences that have hurt, bruised, and broken its inhabitants. Recognizing the pain in others and responding with tenderness and care, as Jesus did, requires a fresh breath of prayer. This important series, which Pastor Jack calls a prism of prayer, reviews and renews the perspective, purpose, and priority of prayer. He challenges us to lovingly reach out to others in genuine concern through prayer and see Jesus meet them.
As a "thank you" for your support of $35 or more to support Jack Hayford Ministries, we would like to send you Pastor Jack's special digital download audio series, Fresh Breath of Prayer.
Audio Messages include: Applying Jabez's Prayer, How to Pray for Someone You Don't Want To, The Prayer That Refreshes Others, and Gathered for Power.


You have
0 items
in your cart
---
Cart
---
You Might Also Like