Store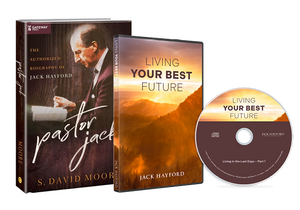 Living Your Best Future - 4-Message album and Pastor Jack Book
CD Album & Book
Living Your Best Future
Living successfully in our current culture, as well as that of the future, requires the application of Biblical principles and the correct attitude. It is about bringing the kingdom of God into our daily lives in the face unrighteousness. Pastor Jack points the way with his encouraging words in this dynamic series Living Your Best Future.
As a "thank you" for your gift of $55 or more in support of the Spirit-led outreaches of Jack Hayford Ministries, we'd like to send you this 4-message album, Living Your Best Future with the following messages, as well as the book Pastor Jack:
Living in the Last Days - Part 1
Living in the Last Days - Part 2
How to Rebuke A Recession

Fashioning the Future
Also available as a $25 Digital Download!

You have
0 items
in your cart
---
Cart
---
You Might Also Like