Store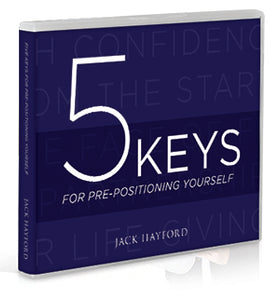 5 Keys for Pre-Positioning Yourself
CD Album
We want to encourage you in the days ahead and as our "thank you" for your gift of $20 or more, we want to send you Pastor Jack's inspiring series, Five Keys for Pre-Positioning Yourself. With this special series, you'll prepare for – and stay focused on – what the Lord has in store for you in this season of your life.
Filled with Biblical wisdom and inspiration, these messages will help you keep pressing forward. They'll put extra confidence in your step as, in the coming months, you advance toward your Promised Land.
Messages include: "Pre-Positioned with Confidence," "Pre-Positioned From the Start," "Pre-Positioned in the Face of Fire," "Pre-Positioned in Partnership," and "Pre-Positioned for Life-Giving."

You have
0 items
in your cart
---
Cart
---
You Might Also Like