Store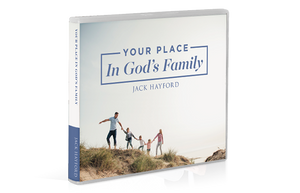 Your Place in God's Family - 6-Message Album
Do you know how your Heavenly Father feels about you?
The holiday season is a time of the year that many eagerly look forward to, but it can also be a time that brings about a certain degree of loneliness in others who may be separated from their loved ones or going through difficult times. As I have been thinking about this, the Lord brought to my mind the parable that Jesus told about the prodigal son and his father.
This parable reveals the heart of Father God towards His children and helps us to understand how much our Heavenly Father loves and cares for us. Jesus tells this story to share how the Lord feels about His children, and His commitment to never give up hope or cease looking out for those that belong to His family of redeemed sons and daughters.
As a "thank you" for your gift of $55 or more in support of Jack Hayford Ministries, we would like to send you a copy of Pastor Jack's hopeful and timely series, Your Place in God's Family.
No matter how far we wander from His plan, the Lord is waiting to receive us into His arms and restore us to the standing and purposes that He has for us. Because of His great love for us, our Heavenly Father will never give up caring for you and me and never loses His vision of who He sees us becoming.
In these messages, Pastor Jack shares Father God's deep, unending love for you, His child. He encourages believers to receive God's love into their lives and to be confident of their place in His heart and His family. As you receive His love and turn to His ways, you will unlock the release of His promises in your life and enter into partnership with your Heavenly Father to do the family business of bringing His kingdom purposes to life!
Audio messages include: Knowing Who We Are, The Power of a Father's Approval, The Greatest Thanksgiving Feast, The Feast of Forgiveness: The Robe, The Feast of Forgiveness: The Ring, The Feast of Forgiveness: The Shoes.

You have
0 items
in your cart
---
Cart