Store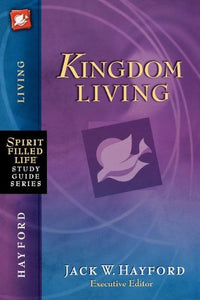 Kingdom Living: Growing Steadfast in the Faith
Softcover
Kingdom Living is predominantly a study of the Book of Romans. The reader will begin to understand all that God has done for His children, all He is presently doing for them, and how faithful He is to His promises. This study is designed to meet the reader in a very real way; revealing God's provision for all of life.
Spirit-Filled Life Study Guides are perfect companions to the New Spirit Filled Life Bible or for use on their own. The guides' interactive approach offers an in-depth look at practical living in God's kingdom and challenges users to examine and live their daily lives in light of God's Word.
Features include:
12 Lessons, plus an introduction to Spiritual Warfare and a guide to using the study
Each lesson features a Kingdom Key, Word Wealth, Kingdom Extra, and a guide to Kingdom Life.
Includes strategies to overthrow works of darkness and live in victory
More than 1 million SFL guides sold!

You have
0 items
in your cart
---
Cart
---
You Might Also Like